Socio-demographic determinants of Iron and folic acid (IFA) consumption by females during their antenatal period delivering in a tertiary care hospital of Haryana
Dr. B.M. Vashisht

Professor, Department of Community Medicine, Pt. B.D. Sharma University Health Sciences, Rohtak, Haryana, India

Dr. Himanshu Bhardwaj

Junior Resident, Department of Community Medicine, Pt. B.D. Sharma University Health Sciences Rohtak, Haryana, India

Dr. Meenakshi Chauhan

Professor Department of Obstetrics and Gynaecology, Pt. B.D. Sharma University Health Sciences, Rohtak, Haryana, India

Dr. Anvesha

Junior Resident, Department of Community Medicine, Pt. B.D. Sharma University Health Sciences, Rohtak, Haryana, India

Dr. Jaiprakash

Junior Resident, Department of Community Medicine, Pt. B.D. Sharma University Health Sciences, Rohtak, Haryana, India
Keywords:
IFA, Anaemia, Pregnant, Socio-demographic determinants
Abstract
Introduction: In India, the major causes of maternal mortality are hemorrhage (26%) and anemia (19%). According to NFHS -4 data, 53% of women are anemic, this situation further worsens when these anemic women come into the antenatal phase, as there is haemodilution during pregnancy. In Haryana, only 32.5% (NFHS-4, India- 30.3%) mothers had taken 100 IFA tablets during her pregnancy. IFA tablets are being provided free of cost during antenatal visits/checkups but even then its consumption is low whose reasons need to be found out.
Aim and objectives: To find out the socio-demographic factors affecting Iron and Folic acid consumption among recently delivered women.
Material and methods: A cross-sectional study was carried out from April 2017- April 2018 among 500 pregnant females who recently delivered at PGIMS Rohtak. A simple random sampling technique was followed. An interview schedule was used for data collection and data were analyzed using SPSS. A Chi-square test was applied.
Results: Out of 500 study subjects, the majority (70.4%) belonged to rural area.97.4% of them were Hindus, 81.4% were literate, 77.2% were unemployed, only 26.4% belonged to below poverty line. 80% of subjects were anemic and only 38.2% of study subjects consumed 100 or more IFA tablets. A significant (p≤ 0.05) association was found between IFA consumption and age, education, and occupation. The influence of caste, family type, socio-economic status, and religion was not statistically significant (p>0.05).
Conclusion: Women and their family members need to be educated regarding the consumption of IFA tablets and their role in pregnancy.
Downloads
Download data is not yet available.
References
World Health Organization. Maternal mortality, Fact sheet – 19 Sep 2019 [Internet]. Geneva: World Health Organization; 2019. Available from: https://www.who.int/news-room/fact-sheets/detail/maternal-mortality.
Anand T, Rahi M, Sharma P, Ingle GK. Issues in prevention of iron deficiency anemia in India. Nutri. 2014;30(7-8):764-770. doi: https://doi.org/1016/j.nut.2013.11.022.
Government of India. Special bulletin on maternal mortality in India [Internet]. New Delhi: Office of the Registrar General, Government of India; Sample Registration System:2019 [cited 2020 April 23]. Available from: http://censusindia.gov.in/vital_statistics/SRS_Bulletins/MMR_Bulletin-2015-17.pdf
Ministry of Health and Family Welfare. National Family Health Survey-4, India Fact Sheet [Internet]. International Institute of Population Sciences; Government of India; 2015-16 [Cited 2019 Dec 27]. Available from: http://www.rchiips.org/NFHS/pdf/NFHS4/India.pdf. [Last accessed on 2018 Apr 01]
United Nations Children Emergency Fund (UNICEF). State of world's children report-2014 [Internet]. New York; UNICEF: 2014. Available at: https://www.unicef.org/sowc/
Ahamed F, Yadav K, Kant S, Saxena R, Bairum M, Pandav CS. Effect of directly observed oral iron supplementation during pregnancy on iron status in a rural population in Haryana: A randomized controlled trial. Indian J Public Health.2018;62(4):287-293. Available from: http://www.ijph.in/article.asp?issn=0019-557X;year=2018;volume=62;issue=4;spage=287;epage=293;aulast=Ahamed.
Ministry of Health and Family Welfare. Guidelines for Control of Anaemia: Intensified National Iron Plus Initiative. New Delhi, Government of India; 2018. Available from: https://www.fitterfly.com/site/pdf/anemia-mukt-bharat.pdf
Habib F, Alabdin EH, Alenazy M, Nooh R. Compliance to iron supplementation during pregnancy. J Obstet Gynaecol. 2009;29(6):487-492. doi: https://doi.org/10.1080/01443610902984961.
Lacerte P, Pradipasen M, Temcharoen P, Imamee N, Vorapongsathorn T. Determinants of adherence to Iron/Folate supplementation during pregnancy in two provinces in Cambodia. Asia Pac J Public Health. 2011;23(3):315-323. doi: https://doi.org/10.1177/1010539511403133.
Yip R. Iron supplementation: Country level experiences and lessons learned. J Nutr. 2002;132(4):859S-861S. doi: https://doi.org/10.1093/jn/132.4.859S.
Bora R, Sable C, Wolfson J, Boro K, Rao R. Prevalence of anemia in pregnant women and its effect on neonatal outcomes in Northeast India. J Mat: Fet Neonat Med. 2013;27(9):887-891. doi: https://doi.org/10.3109/14767058.2013.845161.
Mishra S, Gupta P, Bhardwaj P, Sachan B, Srivastav J, Mishra A. effect of antenatal services during pregnancy on prevalence of anemia amongst pregnant women in Lucknow. Indian J Med Sci. 2016;68(1):17. doi: https://doi.org/10.18203/issn.0019-5359.IndianJMedSci20163524.
Ahankari A, Bapat S, Myles P, Fogarty A, Tata L. Factors associated with preterm delivery and low birth weight: a study from rural Maharashtra, India. F1000 Res. 2017;6:72. doi: https://doi.org/10.12688/f1000research.10659.1.
Devineni K, Sodumu N. A study of spectrum of referral pattern at a tertiary teaching hospital towards better obstetric care. IAIM. 2016;3(8):193-198.
Iyengar S, Iyengar K, Gupta V. Maternal Health: A Case Study of Rajasthan. J Health, Population Nutri. 2009;27(2):271-292. doi: https://doi.org/10.3329/jhpn.v27i2.3369.
Malik JS, Kalhan M, Punia A, Sachdeva S, Behera BK. Utilization of Health Services under Janani Suraksha Yojna in Rural Haryana. Int J Med Public Health. 2013;3(3):176-179. doi: https://doi.org/10.4103/2230-8598.118977.
Abdullahi H, Gasim G, Saeed A, Imam A, Adam I. Antenatal iron and folic acid supplementation use by pregnant women in Khartoum, Sudan. BMC Research Notes. 2014;7(1):498. doi: https://doi.org/10.1186/1756-0500-7-498.
Mithra P, Unnikrishan B, Rekha T, Nithin K, Mohan K, Kulkarni V, et al. Compliance with iron-folic acid (IFA) therapy among pregnant women in an urban area of south India. Afr Health Sci. 2013;13(4):880-885. doi: https://doi.org/10.4314/ahs.v13i4.3.
Knudsen VK, Hansen HS, Ovesen L, Mikkelsen TB, Olsen SF. Iron supplement use among Danish pregnant women. Public Health Nutr. 2007;10(10):1104-1110. doi: https://doi.org/10.1017/S136898000769956x.
Wendt A, Stephenson R, Young M, Webb Girard A, Hogue C, Ramakrishnan U, et al. Individual and Facility-Level Determinants of Iron and Folic Acid Receipt and Adequate Consumption among Pregnant Women in Rural Bihar, India. PLoS ONE. 2015;10(3):e0120404. doi: http://dx.doi.org/10.1371/journal. pone.0120404.
Begum S. Factors associated with adherence to iron folic acid supplementations during pregnancy in Uttar Pradesh. Indian J Mater Child Health. 2012;14(2):2-9.
Ankita C, Chandra P, Ashish A. Factors influencing the consumption of iron and folic acid supplementations in high focus states of India. Clin Epidemiol and Glob Health. 2017;5(4):180-184. doi: http://dx.doi.org/10.1016/j.cegh.2017.04.004.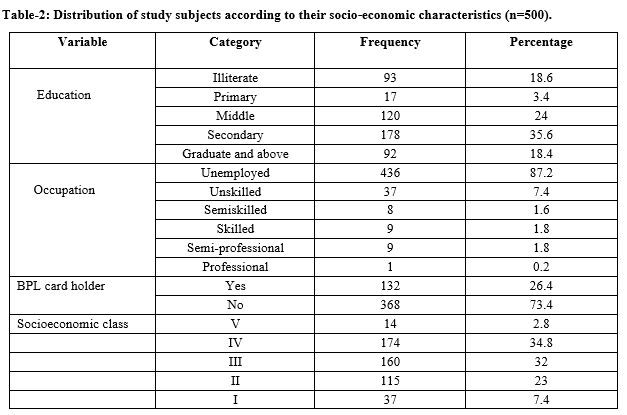 How to Cite
Vashisht, B., Bhardwaj, H., Chauhan, M., Anvesha, A., & Jaiprakash, J. (2020). Socio-demographic determinants of Iron and folic acid (IFA) consumption by females during their antenatal period delivering in a tertiary care hospital of Haryana. Public Health Review, 7(2), 19-25. https://doi.org/10.17511/ijphr.2020.i02.01
Copyright (c) 2020 Author (s). Published by Siddharth Health Research and Social Welfare Society
This work is licensed under a Creative Commons Attribution 4.0 International License.