Role of drug de-addiction centers to control the drug addiction in the state of Punjab
Dr. Gumreet Singh

Professor, Department of Community Medicine, Government Medical College, Patiala, Punjab, India

Dr. Yash Mitra

Assistant Professor, Department of Community Medicine, Punjab Institute of Medical Sciences, Jalandhar, India

Dr. B.S Sidhu

Professor & Head, Department of Psychiatry, Government Medical College, Patiala, Punjab, India

Dr. Paramjeet Kaur

Professor & Head, Department of Community Medicine, Government Medical College, Patiala, Punjab, India
Keywords:
Abuse, Alcohol, Opium, Consumption, Social, million
Abstract
Introduction: The abuse of intoxicants in one form or the other has lived with the mankind as part of the life for ages. Alcohol, opium and cannabis were the traditional substance of abuse in India marked by moderate consumption generally ritualized in social gatherings. The problem of drug abuse acquired new and alarming dimensions with the introduction of heroin and other new forms of drugs in late seventies and early eighties. The commonly used substances in the world are nicotine and alcohol (most commonly), opium, codeine, cocaine, caffeine, barbiturates, more than 13 million Americans use illegal drugs. According to a survey, 80% of Punjabi youth takes drugs. Drug rehabilitation center plays an important role to make drug addict free of addiction. Some centers are also being run under private sector. This study was carried out to evaluate the role of drug de-addiction centers to control the drug addiction in the state of Punjab.
Material & Methods: The evaluation of 10 Drug De-Addiction Centers (DDC) was done to study the role of these centers to control the menace of drug addiction in the state of Punjab. The data regarding profile of patients, satisfaction with services and behavior of staff of centers was collected from those patients admitted in the respective centers during the time of study and statistically evaluated. The study was carried out during April 2009 to March 2010.
Results: Centers under the administrative control of Indian Red Cross Society, out of 90 patients, 10 (1l.1%), 40 (44.4%) and 40 (44.4%) patients had opinion that staff behavior and staff services were good, average and poor respectively. As per medical services were concerned, 10 (11.1%), 45 (50%) and 35 (38.9%) patients said it is good, average and poor respectively. Similarly 27 (30%) said that there was harassment by staff personnel at times and 63 (70%) denied any such incident at centers run by Indian Red Cross Society. Patients numbering 24 (80%) and 53 (50.9%) were not satisfied with indoor stay facilities being provided at centers run by private registered societies and Indian Red Cross Society (IRCS) respectively.
Conclusion: There is a strong need to expand the scope of research in future regarding the field of drug de-addiction to improve the effectiveness of treatment by the DDC centers providing preventive and curative services to the addicts.
Downloads
Download data is not yet available.
References
1. Suwanwela C, Poshyachinda V. Drug abuse in Asia. Bull Narc. 1986 Jan-Jun;38(1-2):41-53.[pubmed]

2. Manual on Standards of Services for the Programmes under the Scheme for Prevention of Alcohlism and Substance (Drugs Abuse 2001. Ministry of Social Justice and Empowerment. Government of India. ShastriBhavan. New Delhi.

3. Prevalence of drug abuse in America. (online accessed on 30th December 2008) available from http:/www.drugstatistics.com 2008.

4. National survey. The extent, Pattern and Trends of Drug Abuse in India, Ministry of Social Justice and Empowerment, Govt. of India, 2004.

5. Sandhu RS. Survey of the rural households in Punjab 2005. On behalf of Department of Social Security and Development of Women and Children. Available at: http://www.sikhphilosophy.net/sikh-sikhi-sikhism/25161-drug-addiction-spreads-in-punjab.html

6. Narcotic Drugs & psychotropic substances (NDPS) act, 1975. The Gazette of India. [Act No. 61 of 1985; Act No. 2 of 1989] Annexure-V. (List of import of narcotic drugs and psychotropic substances under the NDPS Act and NDPS rules).

7. Drug De-Addiction Programme, Annual Report (2006-07), Ministry of Health & FW, Govt. of India: 146.

8. Mohan C, Dhar V, Lal B. A study of 1 de-addiction clinic at GMC (Psychiatry hospital) Jammu (J&K). Indian J Psychiatry abstract supplement 2004; 34:23.

9. DeSilva PV &Fonseka P. Drug addicts and their behaviour related to drug addiction amoung the institutionalized addicts of the Galle District. Galle Medical Journal . September 2008; 13(1): 9-13.

10. Singh B, Singh V, Vij A. Socio-demographic profile of substance abusers attending a de-addiction centre in Ghaziabad. Ind Medica 2006; 6(1): 1-3

11. Kadri, A., Bhagyalaxmi, A. and Kedia, G. A study of socio-demographic profile of substance abusers attending a de-addiction centre in ahmedabad city.Indian Journal of community medicine, 2003;XXVII(2), pp.74-77.

12. Saluja B, Grover S, Irpati A, Mattoo S, Basu D. Drug dependence in adolescents 1978–2003: A clinical-based observation from north India. The Indian Journal of Pediatrics. 2007; 74(5):455-458.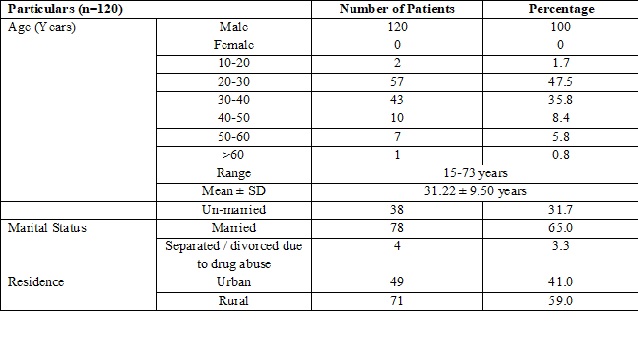 CITATION
DOI: 10.17511/ijphr.2019.i2.07
How to Cite
Singh, G., Mitra, Y., Sidhu, B., & Kaur, P. (2019). Role of drug de-addiction centers to control the drug addiction in the state of Punjab. Public Health Review: International Journal of Public Health Research, 6(2), 89-97. https://doi.org/10.17511/ijphr.2019.i2.07
Copyright (c) 2019 Author (s). Published by Siddharth Health Research and Social Welfare Society
This work is licensed under a Creative Commons Attribution 4.0 International License.