Study on infant feeding practice among children up to 6 months in an urban slum of Bhopal
Dr. Ria Sarkar

Post Graduate Resident, Department of Community Medicine, People's College of Medical Sciences & Research Centre, Bhanpur, Bhopal, MP, India

Dr. Harshal Kawanpure

Associate Professor, Department of Community Medicine, People's College of Medical Sciences & Research Centre, Bhanpur, Bhopal, MP, India
Keywords:
Appropriate child feeding practices, Colostrum feeding, Pre-lacteal feed, Exclusive breastfeeding, Mother's education
Abstract
Introduction: High morbidity and mortality among the under 5 children are highly prevalent in India. Appropriate child feeding practices in the initial six months of age act as a preventive intervention against childhood morbidity and mortality.
Methods: A questionnaire-based cross-sectional study was conducted in an urban slum to study various feeding practices prevalent among children up to 6 months of age. Also associated socio-demographic factors were studied. SPSS software version 25 was used to analyze the results.
Results: The study included 55 children up to 6 months of age. Out of these 76.4% were exclusively breastfed. Among 45.5%, breastfeeding was within 1st hour of the birth. 56.4% have received pre-lacteal feeds, while 72.72% received colostrum. The educational status of the mother and place of delivery were major determinants of appropriate infant feeding practices.
Conclusion: Most mothers are practising exclusive breastfeeding. Colostrum was fed to most of the children. Animal milk was given in cases where initiation of breastfeeding was delayed.
Downloads
Download data is not yet available.
References
1. India State-Level Disease Burden Initiative Malnutrition Collaborators. The burden of child and maternal malnutrition and trends in its indicators in the states of India: the Global Burden of Disease Study 1990-2017. Lancet Child Adolesc Health. 2019 Dec;3(12):855-870. doi: 10.1016/S2352-4642(19)30273-1.

2. India State-Level Disease Burden Initiative Child Mortality Collaborators. Subnational mapping of under-5 and neonatal mortality trends in India: the Global Burden of Disease Study 2000-17. Lancet. 2020 May 23;395(10237):1640-1658. doi: 10.1016/S0140-6736(20)30471-2.

3. UNICEF. Nutrition: Malnutrition. [Cited 29 Sep, 2018] Available at: https://data.unicef.org/topic/nutrition/malnutrition/

4. International Institute for Population Sciences. National Family Health Survey-4, State fact sheet Madhya Pradesh, 2015 -16: India. Mumbai:IIPS; 2016. [Cited on 2018 December 21] Retrieved from: http://rchiips.org/NFHS/pdf/NFHS4/MP_FactSheet.pdf.

5. World Health Organization. Indicators for assessing infant and young child feeding practices: part 1: definitions: conclusions of a consensus meeting held 6-8 November 2007 in Washington DC, USA. World Health Organization, 2008.

6. Ogbo FA, Dhami MV, Awosemo AO, Olusanya BO, Olusanya J, Osuagwu UL, et al. Regional prevalence and determinants of exclusive breastfeeding in India. Int Breastfeed J. 2019 May 16;14:20. doi: 10.1186/s13006-019-0214-0. Erratum in: Int Breastfeed J. 2019 Jun 4;14:22.

7. Tiwari, B., Rao, V., Mishra, D., & Thakur, C. S. S. Infant-feeding practices among Kol tribal community of Madhya Pradesh. Indian Journal of Community Medicine. 2007.32(3), 228-228.

8. Das, A., Mala, G. S., Singh, R. S., Majumdar, A., Chatterjee, R., Chaudhuri, I., et al. Prelacteal feeding practice and maintenance of exclusive breast feeding in Bihar, India–identifying key demographic sections for childhood nutrition interventions: a cross-sectional study. Gates open research. 2019.3.

9. Madhu K, Chowdary S, Masthi R. Breast feeding practices and newborn care in rural areas: a descriptive cross-sectional study. Indian J Community Med. 2009 Jul;34(3):243-6. doi: 10.4103/0970-0218.55292.

10. Benakappa DG, Raju M, Shivananda, Benakappa AD. Breast-feeding practices in rural Karnataka (India) with special reference to lactation failure. Acta Paediatr Jpn. 1989 Aug;31(4):391-8. doi: 10.1111/j.1442-200x.1989.tb 01323.x.

11. Phukan D, Ranjan M, Dwivedi LK. Impact of timing of breastfeeding initiation on neonatal mortality in India. Int Breastfeed J. 2018 Jul 3;13:27. doi: 10.1186/s13006-018-0162-0.

12. Sultania P, Agrawal NR, Rani A, Dharel D, Charles R, Dudani R. Breastfeeding Knowledge and Behavior Among Women Visiting a Tertiary Care Center in India: A Cross-Sectional Survey. Ann Glob Health. 2019 May 3;85(1):64. doi: 10.5334/aogh.2093.

13. Ekambaram, Maheswari, Ballambattu Bhat, and Mohamed Asif Padiyath Ahamed. "Knowledge, attitude and practice of breastfeeding among postnatal mothers." Current Pediatric Research 14.2 (2010): 119-124.

14. Dasgupta, A., Naiya, S., Ray, S., Ghosal, A., Pravakar, R., & Ram, PAssessment of infant and young child feeding practices among the mothers in a slum area of Kolkata: A cross-sectional study. Int J Biol Med Res. .2014. 5(1), 3855-3861.

15. Moestue H, Huttly S. Adult education and child nutrition: the role of family and community. J Epidemiol Community Health. 2008 Feb;62(2):153-9. doi: 10.1136/jech.2006.058578.

16. Liaquathali F, Maruthupandian J, Govindasamy R. An assessment of age-appropriate infant and young child feeding practices among children in Kancheepuram district, Tamil Nadu, India. J Family Med Prim Care. 2020 Sep 30;9(9):4692-4698. doi: 10.4103/jfmpc.jfmpc_668_20.

17. Kogade, P., Gaidhane, A., Choudhari, S., Khatib, M. N., Kawalkar, U., et al. Socio-cultural determinants of infant and young child feeding practices in rural India. Medical Science. 23(100). (2019). 1015-22.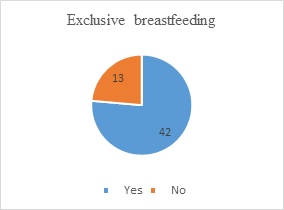 CITATION
DOI: 10.17511/ijphr.2021.i03.02
How to Cite
Dr. Ria Sarkar, & Dr. Harshal Kawanpure. (2021). Study on infant feeding practice among children up to 6 months in an urban slum of Bhopal. Public Health Review: International Journal of Public Health Research, 8(3), 39-44. https://doi.org/10.17511/ijphr.2021.i03.02
Copyright (c) 2021 Author (s). Published by Siddharth Health Research and Social Welfare Society
This work is licensed under a Creative Commons Attribution 4.0 International License.