Medical tourism gaining grounds in India: present scenario and way forward
Dr. Anuradha Mohapatra

Postgraduate Student, Department of Community Medicine, Seth G.S. Medical College and K.E.M Hospital, Mumbai, India

Dr. Purushottam A. Giri

Professor and Head, Department of Community Medicine, IIMSR Medical College, Badnapur, Jalna, Maharashtra, India
Keywords:
Medical tourism, international borders, healthcare services
Abstract
Medical tourism (also called medical travel, health tourism or global health care) is a term used to describe the rapidly-growing practice of travelling across international borders to seek healthcare services
Downloads
Download data is not yet available.
References
1. Wellness and Medical Tourism; Ministry of Tourism. 2015 n.d. http://tourism.gov.in/wellness-medical-tourism (Accessed February 3, 2018).

2. Ministry of Tourism, Government ofIndia, 2010, Tourism statistics at a glance 2009, New Delhi, India 2009.

3. WHO; Medical visas mark growth of Indian medical tourism. WHO Bull 2011.

4. Chravarthy K, Ravi Kumar C, Deepthi K.SWOT analysis on: Medical Tourism paper presented in Conference on MedicalTourism in India Challenges Ahead, IIMK, 15-17, May 2008.

5. Rath SP, Das B, Mishra S, Puthan P. New Avenue of Tourism & Revenue Generation in India-Medical Tourism. Int J Business and Management Tomorrow 2012;2(1):11-14.

6. Kumar GS, Raj RK. Status, growth and impact of medical tourism in India. Int J Pharm Sci Rev Res 2015;34:284–91.

7. Naik N, Lal S. Economic Analysis of Indian Medical Tourism (International Healthcare Destination). IJBMEIT 2013;5:269–77.

8. Kumar A. Medical Tourism emerging as a next growth driver / Travel Trends Today- T3 magazine. Travel Trends Today 2017. https://www.traveltrendstoday.in/news/india-tourism/item/5439-medical-tourism-emerging-as-a-next-growth-driver (Accessed February 3, 2018)

9. Badwe AN, Giri PA, Lati RG. Medical Tourism in India: A New Avenue. Int J Biomed Adv Res 2012;3(3):144-48

10. Advantages of Medical Tourism in India Mediconnect India n.d. http://www.medicalindiatourism. com/advantages.html (Accessed February 3, 2018).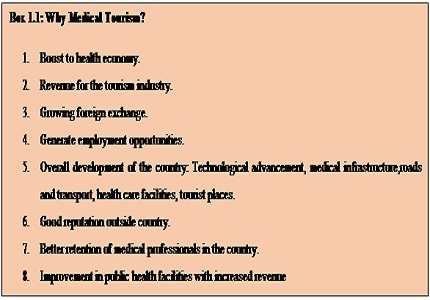 CITATION
DOI: 10.17511/ijphr.2018.i1.07
How to Cite
Mohapatra, A., & A. Giri, P. (2018). Medical tourism gaining grounds in India: present scenario and way forward. Public Health Review: International Journal of Public Health Research, 5(1), 50-53. https://doi.org/10.17511/ijphr.2018.i1.07
Section
Letter to Editor(s)
Copyright (c) 2018 Author (s). Published by Siddharth Health Research and Social Welfare Society
This work is licensed under a Creative Commons Attribution 4.0 International License.