Computer Professionals and their Health issues and Managements
Dr. S. Sudharshini

Assistant Professor, Community Medicine Department, Madras Medical College, Chennai, India

Dr. V.V. Anantha Raman

Associate Professor, Community Medicine Department, SRM Medical College and Research Centre, Kattankulathur, Chennai, India

Dr. M. Mathew Arumai

Medical Social Worker, Community Medicine Department, SRM Medical College and Research Centre, Kattankulathur, Chennai, Tamil Nadu, India
Keywords:
Computer Professionals, Computer Vision Syndrome, Exposure, Health Issues, Knowledge and Health Management
Abstract
Background: The professionals using computers for more than four hours a day are susceptible to develop problems like computer vision syndrome (CVS), eye strain, shoulder problems, Musculoskeletal disorder, Carpal tunnel syndrome, stress, and neck and shoulder problem and back pain, etc. The current study has proposed to unearth these problems and associated factors with their working environment conditions and pave way for pursuing further researches in this area and bringing policy level changes to for their health betterment.
Objectives: study has intended to explore the knowledge of health problems pertaining to exposure of computer work and their management among the computer professionals working in Chennai.
Methods: Convenience sampling was adopted and implemented to collect data from 300 study subjects working in IT companies in Chennai, Tamilnadu, South India.
Results: 71% of the study subjects had one or many problems like head ache, dry eyes, back ache, low back pain, etc., and 43% of them were aware of computer related problems.
Conclusion: Over three-fourth of the study subjects have suffered one or more health problems due to the invariable use of comupters in their day-to-day work places and nearly half of them had an average knowledge on health issues. These problems need to beaddressed through application of measures.
Downloads
Download data is not yet available.
References
1. Amanda M, Zuniga F, Cote JN. Effects of dual monitor computer work versus laptop work on cervical muscular and proprioceptive characteristics of males and females. Human Factors: The Journal of the Human Factors and Ergonomics Society. 2017 January; 13(1): 339-47.

2. Hayes JR, Sheedy JE, Stelmack JA, Heaney CA. et al. Computer use, symptoms, and quality of life. Optom Vis Sci. 2007 Aug;84(8):738-44.[pubmed]

3. Talwar R, Kapoor R, Puri K, Bansal K, Singh S. A study of visual and musculoskeletal health disorders among computer professionals in NCR Delhi. Indian Journal of Community Medicine. 2009 December; 34(4):326-328

4. Sharma G, Srivastava V, Singh PK. Computer vision syndrome: A holistic approach through Trataka yoga. International Journal of Green Pharmacy. 2017 Jan-Mar; 11(1): p. 7-10.

5. Logaraj M, Madhupriya V, Hegde S. Computer vision syndrome and associated factors among medical and engineering students in chennai. Ann Med Health Sci Res. 2014 Mar;4(2):179-85. doi: 10.4103/2141-9248.129028.[pubmed]

6. Shrivastava SR, Bobhate PS. Computer related health problems among software professionals in Mumbai: A cross-sectional study. International Journal of Health & Allied Sciences. 2012 Apr-Jun; 1(2): 74-78.

7. Bhanderi D, Choudhary SK, Parmar L, Doshi V. Influence of psychosocial workplace factors on occurrence of musculoskeletal discomfort in computer operators. Indian Journal of Community Medicine. 2007 Jul 1;32(3):225

8. Ali KM, Sathiyasekaran BW. Computer professionals and Carpal Tunnel Syndrome (CTS). Int J Occup Saf Ergon. 2006;12(3):319-25.DOI:10.1080/10803548.2006.11076691.[pubmed]

9. Sharma AK, Khera S, Khandekar J. Computer related health problems among information technology professionals in Delhi. Indian Journal of Community Medicine. 2006 Jan1;31(1):36.

10. Mallik D, Gahlot A, Maini A, Garg S. Prevalence of dry eye amongst computer workers in Kanpur. International Journal of Community Medicine and Public Health. 2017 July; 4(7): p. 2308-2311.

11. Bisht D, Bakhshi R. Knowledge of computer ergonomics and incidence of musculoskeletal disorders among students of Punjab Agricultural University, Ludhiana, India. Journal of Applied and Natural Science. 2018 March ; 10(1): p. 323-329.

12. Sharma AK, Khera S, Khandekar J. Computer related health problems among information technology professionals in Delhi. Indian Journal of Community Medicine. 2006 August ; 31(1): p. 36-38.

13. Dessi A, Adane F, Nega A, Wami SD, Chercos DH. Computer Vision Syndrome and Associated Factors among Computer Users in Debre Tabor Town, Northwest Ethiopia. Journal of Environmental and Public Health. 2018 September; 2018(Article ID 4107590): p. 1-8.

14. Saleem M, Priya S, Govindarajan R, Balaji E, Divahar Anguraj A, ShylendraBabu PG, et al. A cross sectional study on work related musculoskeletal disorders among software professionals. International Journal of Community Medicine and Public Health. 2015 November; 2(4): p. 367-372.

15. Prasad MA, Wagh V, Mudey A. Study of prevalence of health problems among computer professionals in selected information technology (IT) company in Nagpur district of central India. Innovative Journal of Medical and Health Science. 2014 May-June; 4(3): p. 96-98.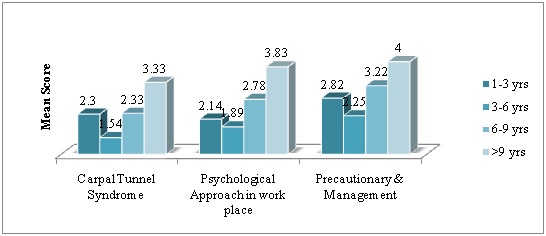 CITATION
DOI: 10.17511/ijphr.2018.i3.03
How to Cite
S., S., Raman, V. A., & Arumai, M. M. (2018). Computer Professionals and their Health issues and Managements. Public Health Review: International Journal of Public Health Research, 5(3), 117-122. https://doi.org/10.17511/ijphr.2018.i3.03
Copyright (c) 2018 Author (s). Published by Siddharth Health Research and Social Welfare Society
This work is licensed under a Creative Commons Attribution 4.0 International License.